Youth Awareness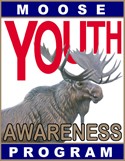 INTERESTED IN $30,000 IN SCHOLARSHIPS FOR COLLEGE?
Hey all! Happy Fall 🎃,
Wow-what an absolutely crazy year 2020 has been so far! With that said the Youth Awareness program will keep "keeping on" like we have since our creation. This year will definitely look different but we still need to try. If your lodge or chapter is willing to host I will follow whatever guidelines your county is in at that time to make this happen. Youth Congresses are your opportunity to invite your community into your lodge and show them how the Moose supports its community. The only date, currently, not available is October 3rd (thank you Moscow Chapter). 
This year I am changing up how I try to motivate students to attend. Like normal I will make flyers and ask that your members hang them in your community but I'm also going to be heavily utilizing social media since a large number is high schools are not meeting in person. 
This is an opportunity to hand out calendars with all the events your lodge will be allowing the public to attend. These families are captive audiences! While we cannot solicit membership you can always invite them to an open house event. The only request I really make is you not place me somewhere that is near alcohol being served. I have found this does not present the image we want to the public. 
Thank you all for your dedication to our amazing fraternity!
REBECCA HOFFARTH
509-628-7404 OR EMAIL
2020 Youth Awareness Calendar